"Intentional Serendipity Series" from Mericle
As COVID vaccinations progress in NEPA, business leaders are being confronted with the difficult decision of how much remote work flexibility should be retained as on-going policy.

In our previous articles, we've covered some of theory on the strengths and weaknesses of remote work.  In this piece, we take that next step and profile what some leading firms are doing to implement a deliberate and cohesive remote work strategy.

In most cases, a hybrid approach is the most prevalent method we're seeing.  It balances employees' wishes to have some additional flexibility and management's desire to maintain some of the pre-existing culture and in-office dynamic.  Regardless of the choice, between digital first, hybrid or in-person, it is critical to understand the tradeoffs of your decision and mitigate the risks where possible.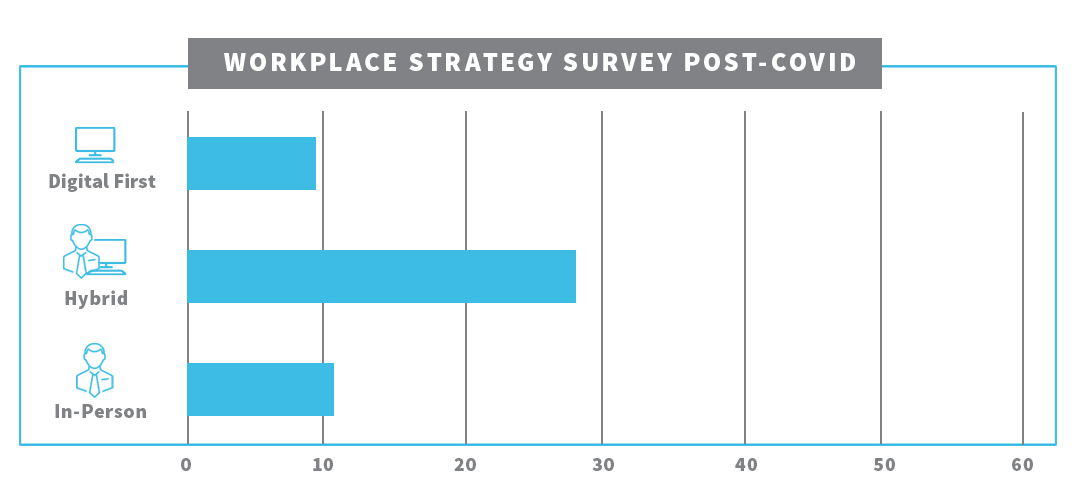 We've compiled our research below and will share with you the rationale for some of these leading companies' decisions – and more importantly how they have executed to minimize any productivity or collaboration losses from the transition.
Some Companies Trailblazing a 'Digital First' Approach:
#1. Drift – a recognized leader in SaaS and B2B marketing for its industry-leading AI-powered chatbot solutions – is putting its people first in pursuing a Digital First approach because CEO David Cancel believes that hybrid leads to an inequitable experience:
"When we founded Drift six years ago, we made it very clear that we valued an in-office experience.  I believe this contributed to being able to achieve hypergrowth and becoming the company we are today….  but a hybrid approach was never an option for us.  Why?  Because I still believe that hybrid leads to an inequitable experience…. Starting today, Drift is now a Digital First company.  This means that while remote will continue to be the primary experience, we'll reconfigure our offices to be "Conversation Spaces," where Drifters can gather and collaborate once it's safe to do so.  I think this is the way of the future.  A future where we can focus more on outcomes and less on time in the office.  And I know that by continuing to be intentional with every culture-related decision we make, we'll build an even better Drift."
[David Cancel is a well-known thought leader and innovator, and also serves as an Entrepreneur In-Residence at the Harvard Business School.  You can follow him on LinkedIn or on his podcast "Seeking Wisdom".]
We touched briefly on the concept around inequity between in-office and remote workers in our last article where unintended hierarchies can form if the policies and tactics supporting the transition to remote work are not well thought through.  In David's statement, he is being clear that remote workers at Drift will not be at a career disadvantage to in-office workers who are getting more face time with executives and decisions makers.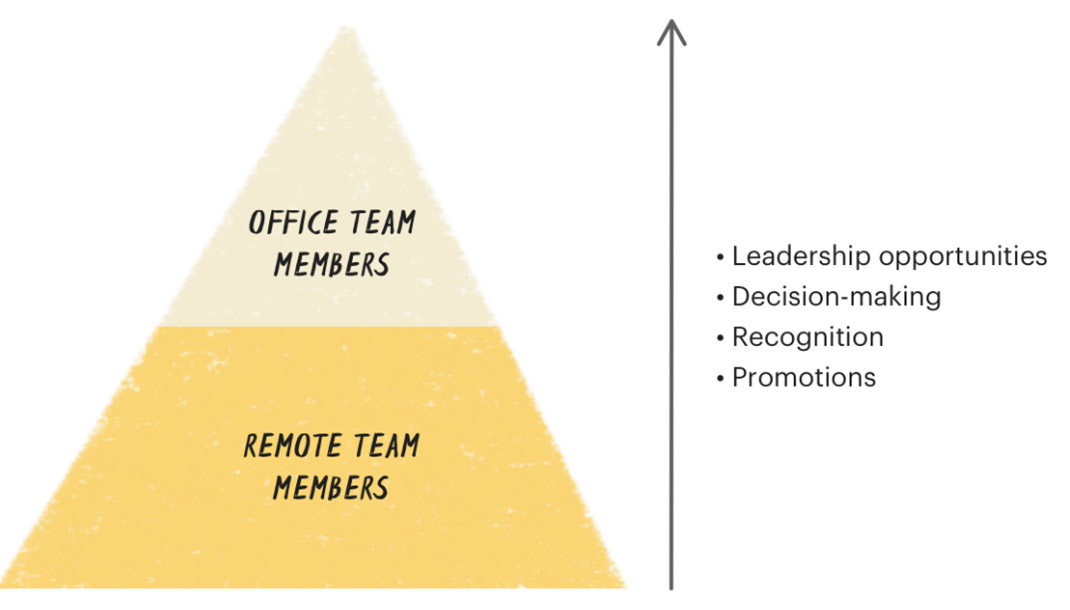 Image source credit:  Twist.com remote work guide
#2. Coinbase – a leading online platform for securely transacting crypto-currencies – has a more balanced human capital and economics driven argument for becoming a remote-first company.
"94% of employees believe that the benefits of remote-first outweigh the drawbacks, or that the benefits and drawbacks balance each other out. In particular, they appreciate the autonomy, flexibility, the ability to focus, and reclaiming commute hours." – Coinbase blog
Additionally, as a fast-growing technology startup, going fully remote has helped Coinbase attract top talent with 52% of employees having joined the company in a post-COVID world – and in Q1 2021 to date, 58% of employees are coming from outside of California.
The Coinbase previous headquarters, which was in San Francisco, is no longer the home of its executive team.  Some Coinbase employees who elected to work remotely did accept a pay cut as a tradeoff for the lower cost of living outside San Francisco and the increased flexibility.   It's well known that San Francisco also has some of the highest wages for talent in the United States.  Additionally, as Coinbase continues to scale remote-first, their real estate needs will not need to grow as fast as their team.
Many Going 'Hybrid' Planning for the Best of Both
#3. Benco Dental – a leading, national full-service dental industry distributor – and one of NEPA's premier employers – has had success working remotely during the pandemic and plans to merge some of those learnings and methods into its policies going forward.
I had the pleasure of interviewing George Rable, Benco's Chief Culture & People Officer, who shared insights into the steps they took to stay connected during the early pandemic and how they see things playing out in the next few months.  According to George:
"We need to maintain the unique culture that has made us successful and also meet the needs of our people. We have committed that at least for now 'at home working' is here to stay in some fashion."
In talking with George, I was impressed by the myriad subtle process changes they made to make remote working a success.   One such change was how the company used the Microsoft Teams virtual collaboration software.  Prior to COVID, calling in with video on was the exception.  Benco has found video discussions to be more productive, and now requires that all meeting participants work with video on (those in person and remote) so that technology can make the experience equal for all.

Benco also made significant efforts to over communicate. For example, for the Senior Leadership Team, what previously were weekly meetings became more frequent, shorter daily check-ins. George noted "overall, we would argue that we've been more productive, even though we're spread out across the country….and we know our associate engagement is strong through our survey results".

To keep engagement high, Benco's Culture & People team implemented the Icebreaker app for Microsoft Teams to create randomized pairings of employees to drive cross-functional engagement virtually.  They also implemented a Saturday evening entertainment series that included events like a group meal prep led by a celebrity chef and a virtual brewery tour as a virtual substitute for the in-person culture building events the team would normally run.   A little creativity goes a long way to build company culture in a remote environment.

"Many of us miss the personal connections we had being at the Home Office day to day," George noted, giving further credence to the office environment as a critical part of the culture they don't want to lose.  To close, George recognized that, "Going forward we know things will be different, and we're still not exactly sure where we will land.  However, we believe it will be a combination of in-person, remote, and hybrid work arrangements."

#4. Prime Therapeutics – a pharmacy benefits manager that employs around 2,200 people in Minnesota – is implementing a "hub and home" hybrid model where most local employees will continue working from home 50% to 65% of the time, with their teams meeting in the office on certain days of the week or month.  According to Kim Gibson, AVP Real Estate and Facilities at Prime, there will be no more assigned desks in the building.

"What we're learning is that employees really want to do most of their focus work at home and when they come into the office, they want to meet with their teams…So having dedicated stations and offices really doesn't serve that kind of a model in the future." – Kim Gibson

With this shift, Prime will only require two-thirds the office footprint it had previously.

#5. Electric.ai – an IT services provider – has made plans to capitalize on the buyer's market for real estate by moving into a space that is 50% larger, and at much lower cost.

Electric CEO Ryan Denehy readily acknowledged that "there's no replacement for in-person interaction and the bonds created between people".   Ryan's view is that the office has three main purposes:
Team collaboration
Separation from home life
Training
#6. Many of the world's other leading technology companies – Facebook, Twitter, Salesforce and Spotify – have elected to pursue some form of a hybrid working environment, while one of the most innovative companies in their cohort has instead elected to maintain the primacy of its in-office experience.
Other Leaders Maintaining the Primacy of the In-Office Experience
#7. Alphabet – aka Google – widely renown for its commitment to an innovation-focused workspace design – has strongly stated in a CEO email to its employees that "In-office collaboration will be just as important to Google's future as it's been to our past".  Google will be testing a hybrid workforce model at their scale and will be enhancing its Meet and Workspace products to prepare for that possible scenario.
And just last Thursday, Google announced plans to invest 7 billion in real estate nationwide – much of that going to office space in cities like Atlanta and Chicago as well as new offices in Texas and Missippi as part of its on-going efforts to diversify its workforce both racially and geographically.  Scott Kessler, an analyst at Third Bridge, believes that, "they're really signaling that there is a tremendous value in having kind of a base of operations where people kind of congregate and work together in person."
#8. Goldman Sachs has similarly come out strongly advocating the benefits of their In-Office experience with a sharp focus on their new analyst on-boarding process.  CEO David Solomon hopes that the summer of 2021 sees this year's recruit get their wall street introductions from their office.
#9. Emerson Corporation CEO David Farr in a detailed interview with the Wall Street Journal went into great depth about the limits of remote work, especially when trying to lead through a crisis.  For Farr, it was critical to bring the leadership team together, in-person, to keep plants online to deliver the vital products and services needed to fight the pandemic and keep the economy running.
#10. And last but not least, what are our plans at Mericle Commercial Real Estate Services?    For now, we have elected to continue with in-office as the primary environment for our people to work and collaborate.   Since our founding in 1985, we have never missed a client's occupancy deadline – and that's a unique part of our culture.
"When issues arise, we immediately pull the cross-functional team together – all needed subject matter experts – to analyze our options and decide on the best course of action. It's the cross-departmental coordination and vertical integration of construction services that enables us to deliver projects with best-in-class speed," says Rob Mericle, CEO. Rob continued, "when you get all the right folks around a table filled with maps, drawings and calculations, you never know which person on the team will have the creative insight that leads to a solution we previously didn't see."
Finding The Common Thread
Almost universally across those profiled, companies still see tremendous value in their office real estate footprint – specifically when it comes to collaborative work and culture building.  Each company must look at their collaboration and culture processes critically to re-assess what role their commercial real estate should play in that innovation equation.  What is certain is that the future of work will look different and the purpose of the office must evolve with it.
Check back for our next article: Five Telltale Signs That it's Time to Right Size Your Office. 

Connect with a Mericle Office Real Estate Expert
About the Author, Kevin O'Boyle: