"Intentional Serendipity Series" from Mericle
We're beginning to see a light at the end of the tunnel with COVID – and it's not an oncoming train, but instead a possible 'degree of normality' if vaccinations can bring about our new normal by the fall 2021.
And now corporate boardrooms everywhere are having contentious debates about the role of Remote Work going forward. With 88% of employers having encouraged work from home during the pandemic, many employees got a taste of the benefits, i.e., added flexibility and time savings – but executives are not fully ready to let go of the command and control that the office environment provides.
A PWC survey did find consensus in that the office is here to stay, but with different jobs to be done than in the past. Some of the first purpose-built offices date back to the early 18th century as the industrial revolution gave birth to large complex organizations which had significant tasks to administer. Reading, writing and computing (no, not that kind of computing; a "computer" was a job title for someone who performed mathematical calculations by hand).

But a lot has changed in a very short amount of time…

To build your workplace strategy, you must address these four fundamental workplace shifts:
Your employees want to maintain some remote work flexibility post-COVID.
Collaboration software adoption has passed the tipping point.
The volume of administrative tasks is declining (due to automation), and creative/collaborative work is increasing (hopefully).
Your office footprint is likely not optimized for collaboration or for a hybrid in-person/remote work model.
This article is the first in a series to tackle these issues… subscribe to our mailing list and don't miss an update!



1. Flexibility matters to your employees more than ever
The pandemic forced a global trust exercise between employer and employee (will people work hard if we are not physically supervising them?). And study after study has shown that employees were worthy of that trust, with remote work productivity being at least equal to, if not better than in-office productivity pre-COVID.
The benefits to employees are numerous:
Time and money saved from commuting.
A more structured work day with less unplanned interruptions and water cooler conversations.
Healthier and more affordable meal options.
Ability to assist with caring for young children or a sick parent.
More time to squeeze in a workout… or a load of laundry, and…
Last but not least, ability to get individual assignments done during your most productive times.
Additionally, as the job market remains competitive and tight, flexibility will be a key deciding factor for job seekers and switchers – especially amongst millennials and Gen Z.  Per PWC, more than half of employees want to work remotely three days or more.
The benefits are not without serious drawbacks.   Microsoft CEO Satya Nadella suggested in a NYT article that effective remote collaboration is relying on (and depleting) pre-existing "social capital" built through in-person social interactions.   Or just ask a working parent with young kids – for them, WFH quickly became "what the heck"!
Cubicles and Lumbergh-style management won't make people productive. Forcing individuals to be physically within a building for a set period of hours won't make them productive. These norms merely existed due to the constraint of the time and the tools at our disposal. It's now incumbent on leaders to decide to what extent this new trend must be embraced to get the talent needed to win!
Check back for our next article: How 3 Leading Firms are Implementing a Tighter, Deliberate Remote Work Strategy.
2. Four Key Types of Software the Digital Workplace Must Master
In 2021, we have the benefit 10,000+ cloud-based software vendors beating down our doors to digitize this same reading, writing and computing that humans have done in offices for hundreds of years – and best of all, these tools make it possible to do this administrative work without being in the same physical location as our colleagues. Transforming from a less digital, in-person workplace to a digital-first, hybrid workplace has several technology hurdles to overcome first.   Having worked with several large organizations in executing digital transformations, these four key areas can make or break an enterprise digitization program:
Collaboration Software: Saying you've learned Zoom doesn't check the box on collaboration software. You need to think holistically about how employees will communicate with one another, share documents and critical feedback, conduct meetings, share notes, chat, etc. – essentially being able to replicate virtually the in-person conversations and interactions the office previously provided.
Cloud Security: IT security was already difficult enough within the safety of your building and firewalls. Now the complexity is ten-fold with employees accessing from non-secure endpoints and more and more sensitive data moving to an increasing number of cloud-based applications
Cloud File Storage: Simple in concept, but difficult to execute. Moving fully paperless and cloud simultaneously in an organized, searchable way requires significant planning and change management.
Business Process Management Platform: All those workflows where a report or document made it to your desk for your review and edit now need to be digitized – and your company's ERP cannot be configured or customized fast enough to handle all the requirements. Many businesses are turning to low-code application development platforms to give their business processes a cozy home in the cloud.
Check back for our next article: Must-Have Technologies for Building a Digital Workplace Foundation.
3. A Greater % of Work Performed in Your Office is Collaborative and Value-Creating
Your administrative work has or will soon be automated (and if you are not already automating it, your competitors are and their cost position may soon be better than yours).
So, what's the big deal?
Human jobs exist to create the value that a machine or computer program can't create – and when it comes to collaborative work, the old saying "two minds are better than one" still holds true.   Remote work has shown to be effective for getting tasks done.   But no study could possibly measure the adverse long-term impacts of lost innovation from the pandemic's forced isolation. We need to be careful regarding the definition of "productive" used in these surveys because your customers don't care about how efficient you are – they care about how you built a team that provides them with creative solutions. That's the value proposition for most winning businesses and human capital being its most productive.
So, what is the purpose of your office – what job did you 'hire' your office to do? Just like how people buy a milkshake to lessen the boredom of a long commute, you paid for your office space because you expected something in return. With administrative work – the traditional purpose of the office – decreasing in significance, we see the future of the workplace focusing mainly on three areas:
Collaboration: Building the networks and relationships across departments so people can work together in creating unique value and solving new problems
Culture: Building an environment where leadership can instill the core values and beliefs to inspire, motivate and align the team around common goals.
Career: Building the mentoring relationships and the learning environment so that the talent pool continues to improve
This is a once in a lifetime opportunity to critically re-assess why you even have an office in the first place, and what you want your people to accomplish there. Use this opportunity to bring your people back to the office in a meaningful and impactful way!
Check back for our next article: Work From Home is Killing Creative Collaboration and What to Do About It (through the lens of 'Jobs to be Done').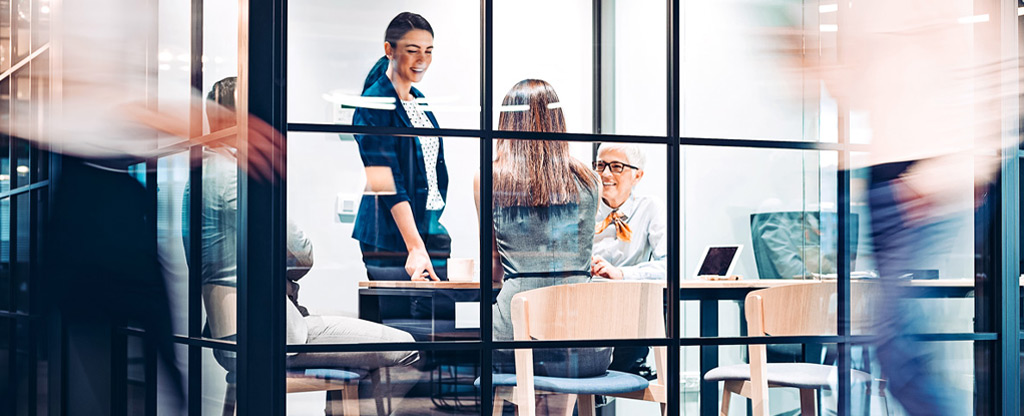 4. Re-Design + Right-Size Your Office Around 'Innovation Teams', not Individuals
Stop reading this article and look around your office. Here comes a lightning round of questions:
Are you bursting at the seams or did a tumbleweed just roll by?
Do people work together as much as you would like them to?
Are your conference rooms over- or under-utilized?
Does the layout make sense?
Is there a gray funeral home vibe?
Have you experimented with team spaces or collaborative spaces?
What about Solitude spaces for deep focus work?
Does the environment reinforce your Brand?
If your office was designed prior to 2018, it's very likely the possibility of a hybrid in-office/remote work environment was not even a twinkle in your designers' eye.   Remind yourself that whomever specified and designed the size of your office space used the 200 square foot per employee rule of thumb – and didn't know that 2 trillion minutes of Zoom meetings (yes I said trillion) would happen monthly.
They also didn't know that you would not need physical file storage because we would all be able to magically store all our files on the cloud using OneDrive, Google Drive. etc.
Your office was likely designed with the objective to minimize cost. At ~$15 per square foot, each employee's share of the office space costs roughly $3,000 per year – which is somewhere between 3% and 6% of the typical office worker fully-loaded salary.
At the macro-level, the office should be designed around the team – and the Innovation Work that the team performs – not the individual. Each team needs space to meet, argue, debate and ultimately converge on a winning roadmap for your business. Have you provided them the space they need for that – or the 200 square foot box somebody drew in CAD back in 2005?
The design of the office is 100% linked to the collaboration, culture and career-focused environment that you want to foster. As you address changes to your Remote Work policy, we encourage you to take a step back to challenge the fundamental purpose of your workplace – then right-size and design a space that is uniquely tailored to your business innovation engine.
Check back for our next article: Office Design Guide – Making Spaces for Collaboration, Solitude, and to Reinforce Your Brand.
Connect with a Mericle Office Real Estate Expert
About the Author, Kevin O'Boyle: