NEPA is a Magnet for Food & Beverage Manufacturing & Distribution Operations
Northeastern Pennsylvania (NEPA), consisting of Northern I-81 Corridor communities such as Scranton, Pittston, Wilkes-Barre, and Hazleton, has long been a magnet for food and beverage manufacturing and distribution operations.
Several factors have combined to grow the food industry in NEPA. These include quick access to raw materials and the Northeast's consumption zones, an available, quality, and affordable labor supply, abundant and reliable utilities, and a wide variety of available ReadyToGo!™️ Sites and Buildings with room for expansion.
NEPA is in the center of the Boston/Washington Corridor and is at the confluence of six major highways. Interstates 81, 80, 84, 380, and 476 meet here and provide excellent access to firms wishing to serve Maine to Virginia and west to Ohio. I-78 can be reached in just one hour from NEPA.
Interstates 81, 80, 84, and 380 are toll-free. There are no major bridges or tunnels in the region to delay truck departures or arrivals.
More than 100 million people, about one third of the nation's population, live within a 500 mile radius of NEPA, and close to 53 million people live within 200 miles. New York City, Philadelphia, Harrisburg, and Syracuse can all be reached in about two hours. Close to 48 million people live within a four-hour drive from the center of NEPA.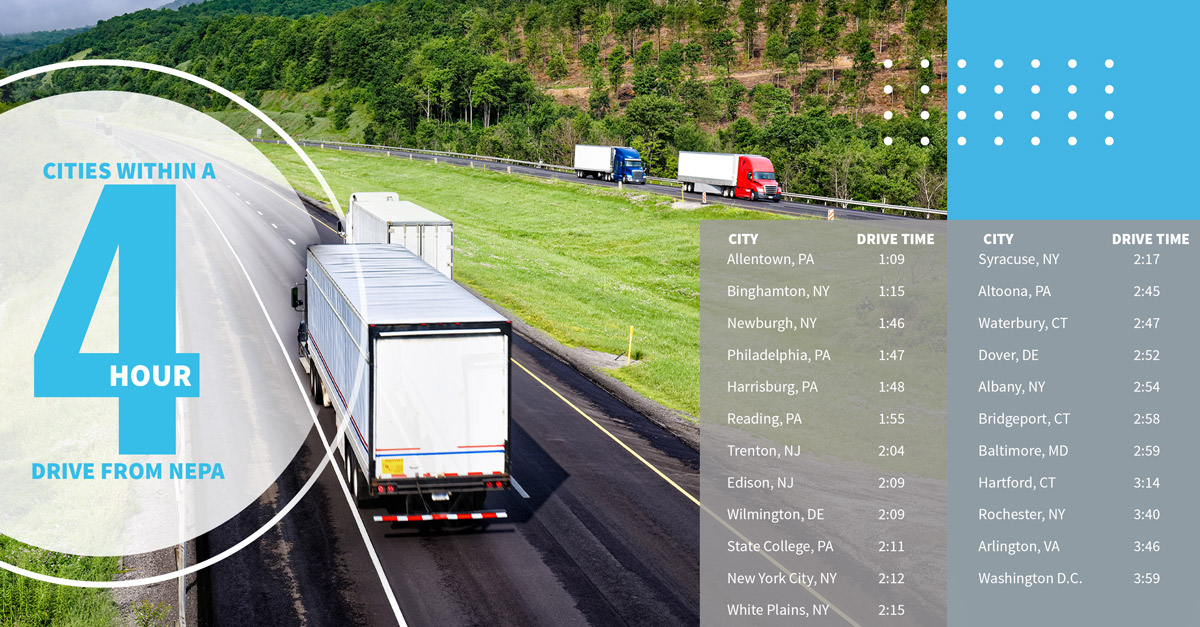 Highway access and the availability of skilled labor continue to battle it out as the top factors that determine where executives locate their business units.  Availability of skilled labor grabbed the top spot in 2020 but highway access wins a narrow victory over the past five years.  Labor costs consistently ranks in the top five. 
Well Known Companies with Major Distribution or Manufacturing Operations in NEPA
AN AFFORDABLE LOCATION
Class A industrial space, including annual real estate taxes, can be leased here for about half the cost of the same space in New Jersey.
A DEEP LABOR MARKET
Despite strong industrial growth, NEPA's unemployment rate continues to run higher than state and national averages.
The following statistics, released by The Pennsylvania Department of Labor & Industry, demonstrate how the region has compared to the state and nation in recent years. These are seasonally adjusted rates that have been rounded: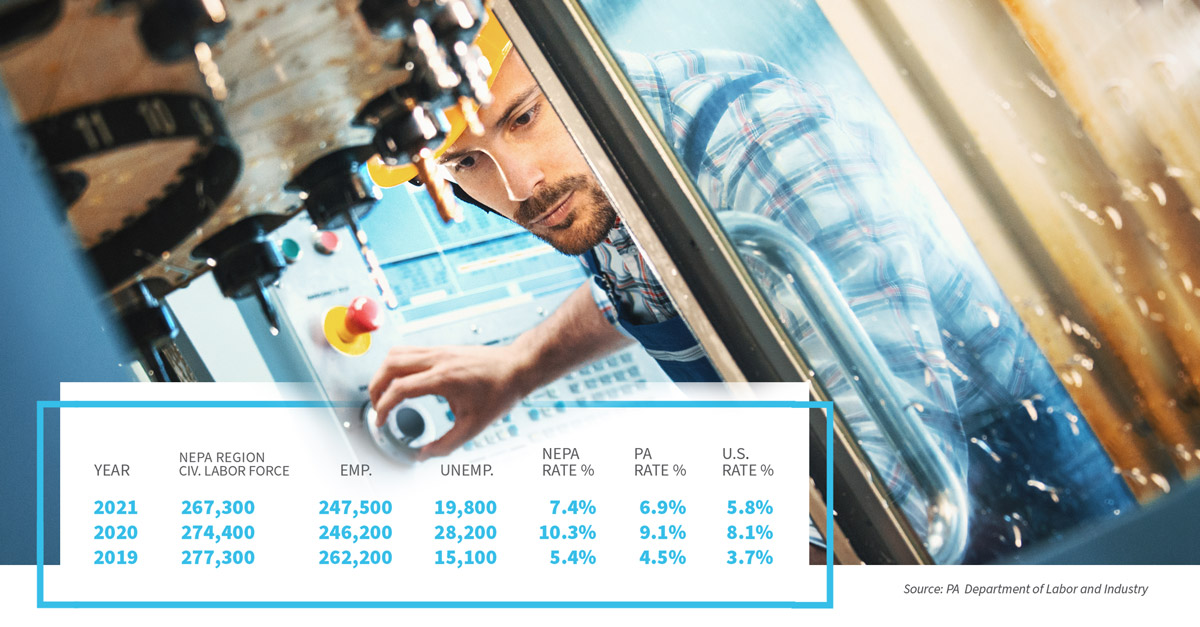 Connect with a Mericle Industrial Real Estate Expert