"Intentional Serendipity Series" from Mericle
Many business leaders are being forced to question whether or not they still need as much office space as they had pre-COVID.  As we discussed in our last article – many leading firms are pursuing a hybrid model, where at least for certain company positions, the 5 day per week in office requirement is no more.
We've talked with our real estate clients – and after looking at the data – we have boiled it down to 5 simple reasons why businesses right size and relocate. Here's some casual observations that you can make right now with very little effort to know if it's time for your business.
And by right-sizing, we don't only mean office square footage, but these 5 dimensions of space effectiveness:
1.  Total Square Footage
2.  Collaboration Space
3.  Digital Connectivity
4.  Parking
5.  Facilities 
1. It's TOO Quiet
Not a lot of managers are running around doing utilization calculations on their office space – and you probably don't need to.  The noise level is usually a fairly good first indicator that your office could be below its optimal utilization.  A little solitude is a good thing for focus work – but too much of it can mean your people aren't interacting enough with each other and customers.
If your team is working in a hybrid work-from-home/office model and you are still in the same size space as before, you may either have:
1. Too much space or…
2. The wrong layout for your new workforce plan

To determine if it's too much space, you need to study the exact nature of the work your people perform.  Maybe the reason it's too quiet is because your workers might just be generally independent.  For example, an office of patent examiners might not need to collaborate with peers often.  If the nature of the work your people do is more individual and task oriented, you may have discovered no loss in productivity or innovation during the work from home period.  For these types of firms and jobs, a dedicated cubicle may not be needed.

Reclaiming under-utilized space is often easier said than done – and usually you cannot recapture square footage without changing your floor plan.
In his study to understand future demand for office space, commercial real estate investment leader Tal Peri said, "working from home one extra day, or 20% of the week, does not lead to a 20% reduction in the amount of office space needed."
To save space, you need to convert dedicated cubicles and private offices to shared collaborative spaces for some percentage of your WFH/Hybrid employees.  Serve those employees with a "hot working space" – picture a Starbucks-like working environment inside your office – by providing a collaborative space that is fully-wired with power and data.
2. It's Tough To Find An Open Conference Room
Employees need space to meet casually for collaboration and creative work – and if your office environment creates obstacles to those meetings, you have hindered innovation.
•  Is it easy for employees to reserve a conference room?
•  If employees wanted to start an impromptu meeting, is there a space available?
•  Are employees often queued up outside a conference room waiting for a prior meeting to end?
•  Do these spaces have screens or projectors to easily share content?

If you answered 'no' to one or more of these questions, your space may not be set up to meet your needs.
JP Morgan chase plans to consolidate and reduce their real estate footprint by moving to a more open seating arrangement.  In his letter to shareholders, CEO Jamie Dimon stated, "Digital tools will help manage seating arrangements, as well as needed amenities, such as conference room space. As a result, for every 100 employees, we may need seats for only 60 on average. This will significantly reduce our need for real estate."

3. Getting Connected Is Always A Little Hokey
Connectivity is fundamental to modern business, especially as our day-to-day productivity becomes more dependent on cloud-based applications and the speed at which we access data.  For example, Microsoft Office 365 and its Teams collaboration software requires an order of magnitude greater network bandwidth than its predecessor applications – as syncing data across multiple users in real-time requires major resources on the backend to make the front-end experience frictionless.
'Wired Scope' real estate certifications are increasing in popularity as landlords are realizing that installing a modern digital infrastructure drives better tenant attraction, retention and rental rates.
Technology continues to advance and soon we will see 5G become more mainstream.  According Debika Bhattacharya, Senior Vice President of 5G for Verizon Business, in an interview with Cushman & Wakefield "We are continuing to see more workers being untethered from desks.  They're not just on their phones, but working on more complex problems on their tablets in conference or huddle rooms, without having to be at their desks or on their computers.  They can do that now because of 5G's bandwidth and speed."
If getting connected is often a hassle, maybe it's time your wired scope gets an upgrade.
4. The Parking Lot Is Full
Parking is never an issue, until…well, it becomes THE ISSUE.  And at that point, it's too late.
Maybe you never thought your business would grow to this size and it has – and you never thought you'd need so many parking spaces for employees AND visitors.
•  Do you make your employees park in and walk from remote lots to make room for visitors and clients?
•  Have clients ever complained about a lack of parking spaces?
•  Is parking listed as a key issue in your employee satisfaction survey?
•  Has the cost of parking for you and your employees grown significantly?

If you answered 'yes' to one or more of these questions, your space may not be set up to meet your needs.
For some, the work-from-home trend may alleviate this bottleneck, but for others a lack of adequate parking is the major elephant in the room that is causing your employees and clients pain on a daily basis.  While downtown offices offer walkable amenities like restaurants, they often lack the necessary parking capacity a business needs now and into the future – turning your once beloved downtown location into a white elephant.
5. Your Landlord Is Doing The Bare Minimum
Sometimes you might have the perfect space for your business, only if your landlord wasn't making your stay so unpleasant – either through not addressing issues, not being timely, poor customer service or just nickel-and-diming you at every turn.  The little things do matter.  Life is too short to stay in a bad relationship – and there's always plenty of other fish (real estate) in the sea (for lease).
The office market is frothy right now with many landlords putting out aggressive incentives – like months of free rent or free relocation services – to get users to switch.  It's up to you to take advantage of that opportunity to right-size your office for the new realities of the modern office.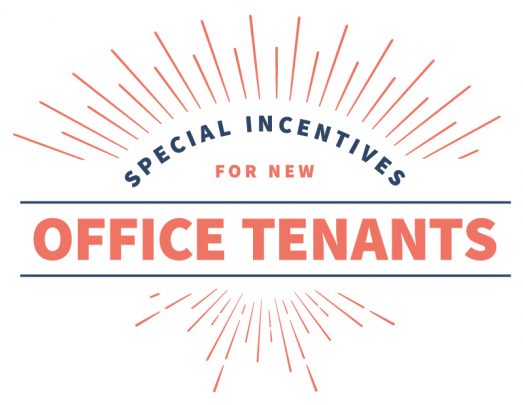 Connect with a Mericle Office Real Estate Expert
About the Author, Kevin O'Boyle: