NEPA is a Magnet for Manufacturing Operations
Northeastern Pennsylvania (NEPA), which encompasses Northern I-81 Corridor communities such as Scranton, Pittston, Wilkes-Barre, and Hazleton, has a long history of supporting a diverse array of manufacturing operations.
Several factors in NEPA combined to grow the manufacturing industry. These include a highly productive and cost competitive labor supply, quick access to raw materials, close proximity to the Northeast's major metropolitan areas and ports, a superior interstate network, abundant and reliable utilities, and available industrial sites and buildings in tax abatement zones.
According to the Pennsylvania Department of Labor and Industry, in 2021 close to 52,000 people were employed in manufacturing at 1,062 firms in NEPA.
Well-known companies with manufacturing plants in the region include Lockheed Martin, General Dynamics, Simmons Company, PepsiCo., Tempur Sealy, Procter & Gamble, Sanofi Pasteur, Bimbo Bakeries, Hershey Company, ON Semiconductor, Wren Kitchens, Henkel (Dial Corp.), Bemis, Ball Corporation, CANPACK, Cargill, and Sandvik Materials Technology.
More than 100 million people, about one third of the nation's population, live within a 500 mile radius of NEPA, and close to 53 million people live within 200 miles. New York City, Philadelphia, Harrisburg, and Syracuse can all be reached in about two hours. Close to 48 million people live within a four-hour drive from the center of NEPA.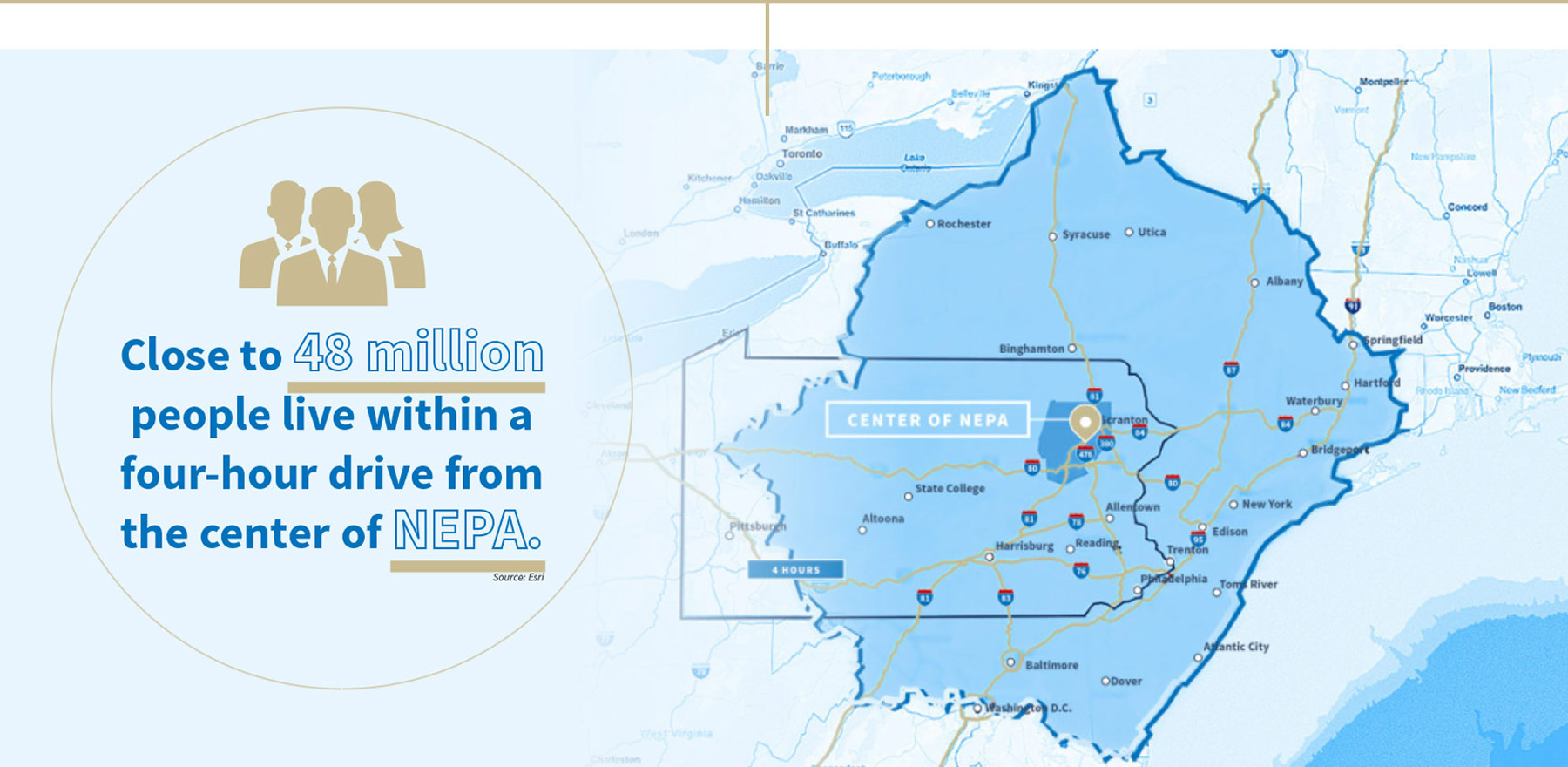 In addition to the numerous nationally-known trucking companies with operations in NEPA, there are also national and local third party logistics (3PL) companies located here. Some of the most active 3PLs in NEPA include Calex Logistics, DHL, FedEx Supply Chain, ID Logistics, J.B. Hunt, Karchner Logistics, LeSaint Logistics, Neovia, NFI, Penske Logistics, The Patton Logistics Group, Romark Logistics, Saddle Creek Logistics Services, Valley Distributing and Storage, and XPO Logistics.
FedEx Ground, FedEx Authorized Ship Center, UPS, and DHL have multiple facilities in NEPA. UPS has an operation near a main entrance to CenterPoint Commerce & Trade Park East, near Pittston, PA, while FedEx Ground, FedEx Authorized Ship Center, and DHL are located in an adjacent business park.
Well Known Companies with Major Manufacturing Operations in Mericle Buildings
AN AFFORDABLE LOCATION
A study done by site consulting firm The Boyd Company for the economic development agency Penn's Northeast, determined annual operating costs for a hypothetical 225,000 square foot, 350-employee production facility in NEPA to be significantly lower than in competing metro areas.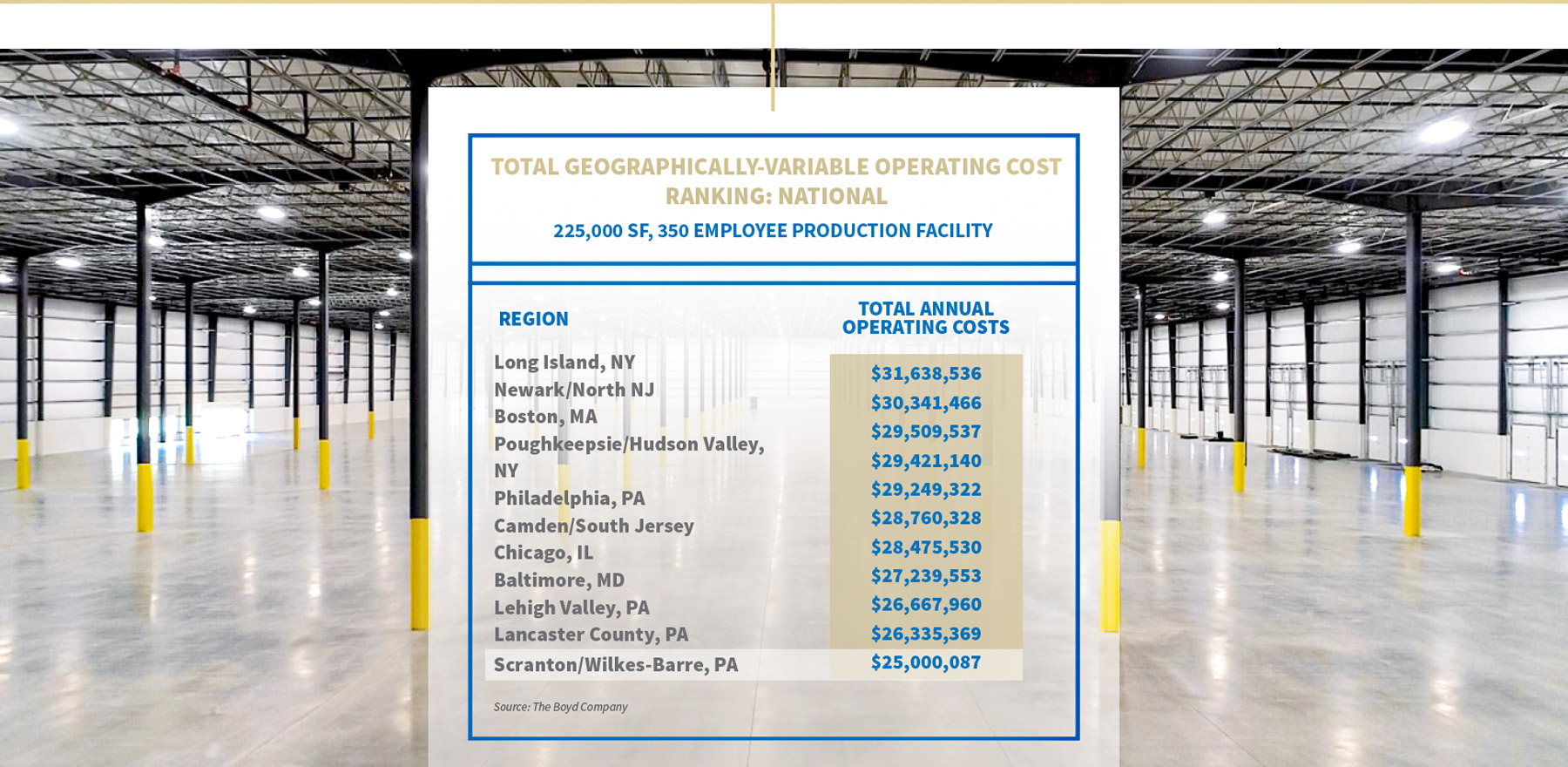 A DEEP LABOR MARKET
Local employers report that most non-skilled workers commute up to 20 miles to work while skilled workers will commute more than 30 miles. Local commutes are enhanced by an excellent interstate and local road network. For example, a 20-mile commute can typically be made in less than 30 minutes. According to the United States Census Bureau, average daily commutes to work range from 20 to 25 minutes throughout NEPA.
In addition to being readily available, NEPA's labor force is also cost competitive compared to major metro areas in the Northeast US.
According to 4th quarter of 2020 data supplied by the Pennsylvania, New York, and New Jersey Departments of Labor & Industry, wage rates in NEPA compare favorably to those in competing areas.
Connect with a Mericle Manufacturing Real Estate Expert