Meet Jacob
Jacob Connolly, a student at Penn State Wilkes-Barre, is a summer intern in the civil engineering department at Mericle Commercial Real Estate Services. He first heard about Mericle through his uncle, Dan Connolly, who holds a position as Sitework Manager with the company.
Initially interested in civil engineering after graduating from Dallas High School, Jacob later discovered a strong passion for surveying and made the decision to pursue a degree in Surveying Engineering.
During his internship, he has been extensively involved in surveying work. "Starting out by shadowing our survey technician, Aaron Kopicki, has helped me understand what it takes to do the job. I now have the opportunity to venture onto a project site on my own, which is proving to be valuable," he said.
Jacob has found parallels between his academic coursework and his internship, which has given him the chance to sharpen skills he originally learned in the classroom. "My construction surveying class really helped prepare me for this internship. I can see the overlaps with the course content and responsibilities here at Mericle," he said.
The hands-on experience is valuable to Jacob, and he is thankful to for the opportunity to work and gather practical experience. He humorously admits that he is still adjusting to the early mornings and the responsibilities of an "adult job." Once he clocks out, Jacob enjoys spending time with friends and playing basketball.
Upon graduation, Jacob aims to continue his focus on construction surveying and has a keen interest in staying within the NEPA area, building his career within the community he knows and is passionate about.
Meet Blake
Blake Bynon, a student at Wilkes University, is working as a summer intern at Mericle Commercial Real Estate Services.
Blake is set to graduate in late 2024 while majoring in electrical engineering.
Over the years, Blake always looked up to his older brother who was an industrial engineer. He decided to study electrical engineering to follow in his footsteps.
A resident of Wilkes-Barre, Blake often noticed Mericle's real estate signs throughout Northeastern Pennsylvania. He became more familiar with the company from his neighbor, Joe DiMaggio, who is the Vice President of Mericle's M/E/P Group.
Blake has spent much of his internship performing electrical tasks at Mericle buildings in CenterPoint Commerce & Trade Park East. In the upcoming weeks, Blake is excited to transition to the office to learn about the design process.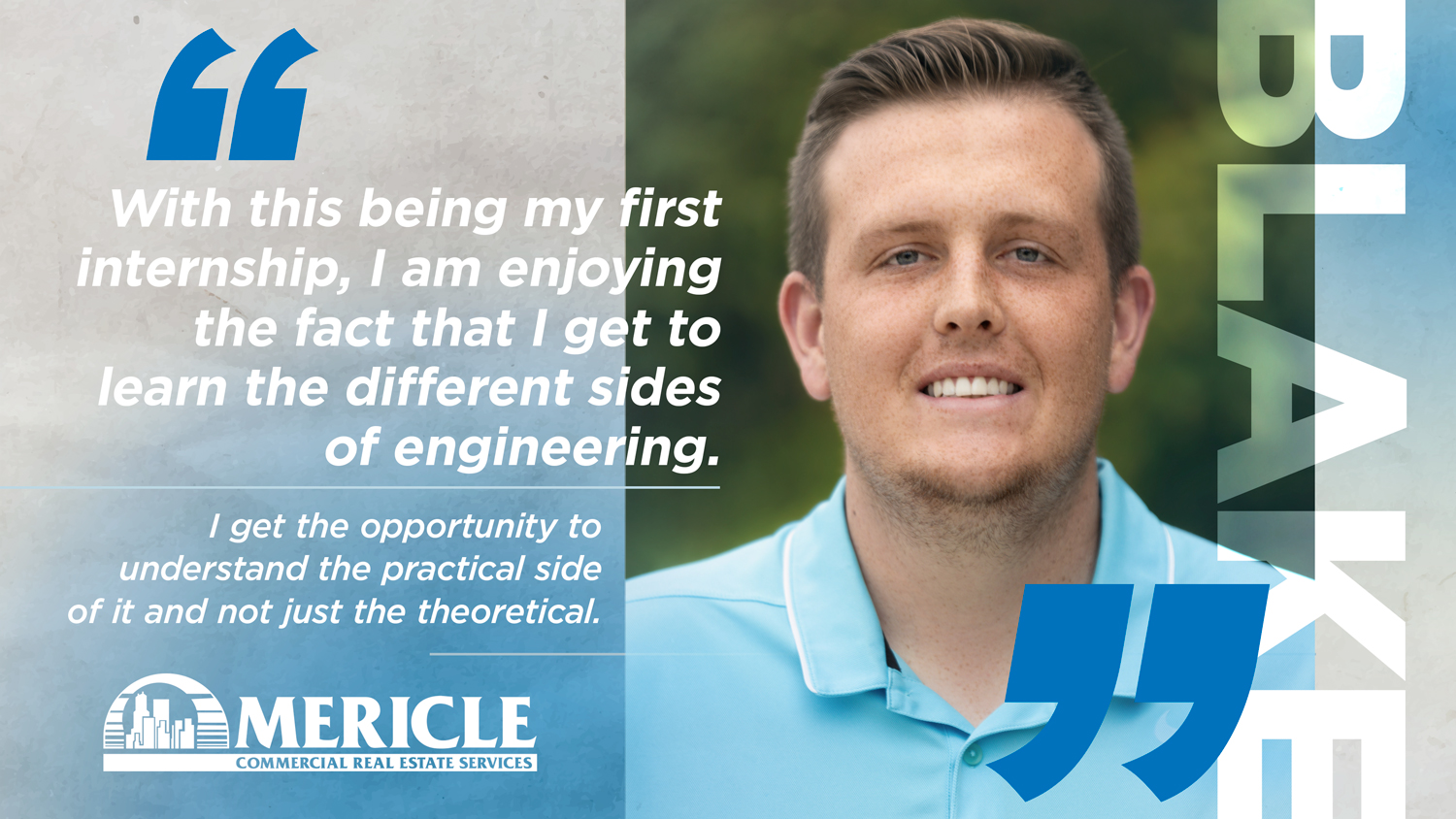 He looks forward to a family cruise to the Bahamas for his birthday this summer.
After his time at Wilkes University, Blake plans to obtain a job in the electrical engineering field in NEPA or in Florida near his brother.
Meet Mark
Mark Hutsko, an electrical engineering major at Penn State University, has joined Mericle Commercial Real Estate Services for a summer internship.
A native of Lake Lehman, Mark learned about Mericle from family friends who had a connection with Larry Radel, who is an architect with the company.
Growing up, Mark enjoyed hands-on tasks and learning how and why things functioned the way they did. His father advised him to choose a career in electrical engineering.
Mark enjoys spending his time out on the field working at CenterPoint South and being able to learn from Mericle's highly experienced group of engineers.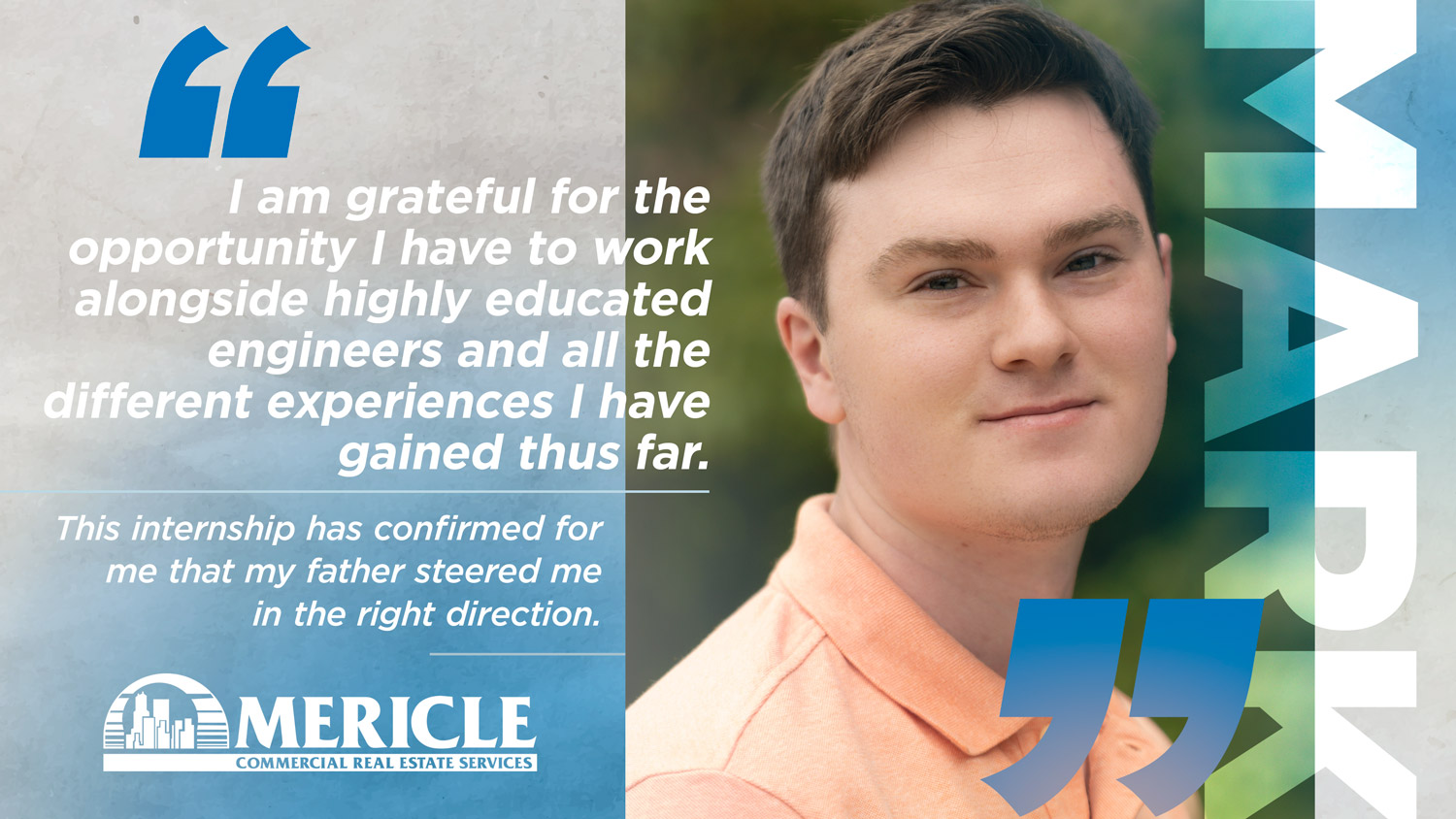 Mark plans to take classes at Penn State that will help him advance his understanding of electrical engineering so he can apply it in the workplace.
Outside of the office, Mark enjoys spending time with friends and family. He looks forward to his vacation to Cape May this summer.
After his time at Penn State, Mark intends on staying in the field of electrical engineering and is eager to take advantage of any job opportunities that may arise.
Meet Cate
DiscoverNEPA has welcomed Cate Griffin as a writing intern for the summer. Cate is a Kingston native, and is a student at Trinity College in Hartford, Connecticut.
Cate is passionate about writing and at DiscoverNEPA, she has enjoyed creating posts for TikTok, going on video and photo shoots, and writing for discovernepa.com.
Cate's internship has included trips to Camel Beach, a local cat café, Prompton State Park, local shops, and farmers' markets.
In Cate's free time, she enjoys reading and writing, watching her favorite TV shows, going out to eat, and going on day trips.
Meet Patrick
Patrick Bennie, a student at King's College, has joined Mericle's mechanical engineering team as a summer intern.  A Pittston native, Patrick is majoring in physics and mechanical engineering with a minor in mathematics.
Patrick grew up watching his father take cars apart and put them back together and it always interested him. He is following in the footsteps of his brother who had the same majors in college.
Patrick is a member of the King's Engineering and ASCE Clubs and is the Treasurer of his class.  He is also a member of the King's basketball and track and field teams.
Patrick has found his AutoCAD and Auto Inventor programming classes useful during his internship.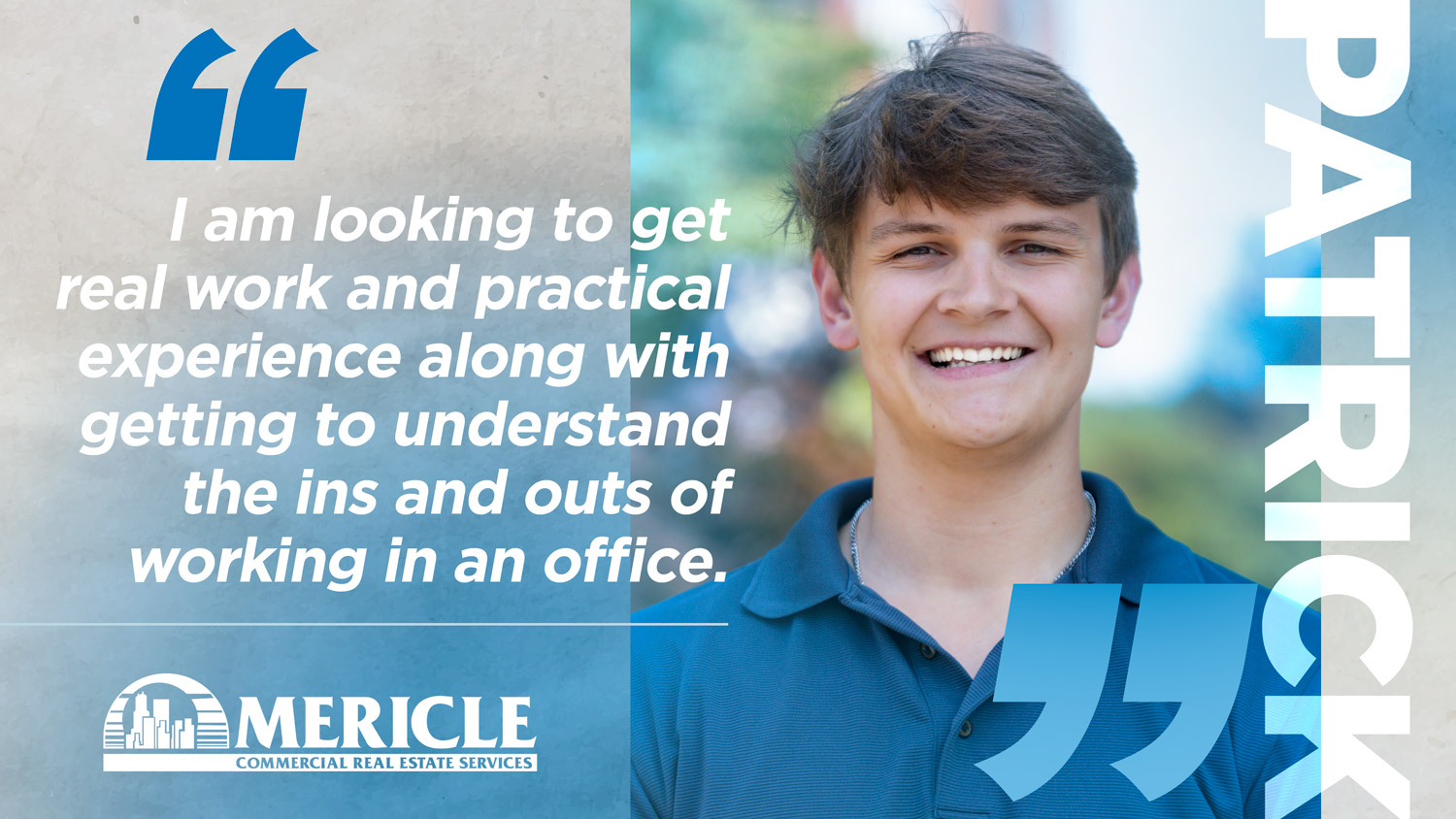 He knows this internship will give him a better overall understanding of the processes that go behind designing and reviewing systems.
In Patrick's future, he hopes to work in the automotive industry.
In his free time, you can find him restoring old vehicles, fishing, building Legos, working with his 3D printer, and playing sports.
Meet Sarah
Sarah Newman, a student at American University in Washington DC, has begun a summer internship with DiscoverNEPA.
Sarah is focusing her studies on history and graphic design.
She was first introduced to DiscoverNEPA by her father, Larry Newman, who is the executive director of the Diamond City Partnership, which promotes Downtown Wilkes-Barre. Sarah learned more when DiscoverNEPA Executive Director Mary Kolessar spoke to her Junior Leadership Class and the Luzerne Foundation Youth Advisory Committee.
"After Mary spoke to us, I became interested in DiscoverNEPA's mission."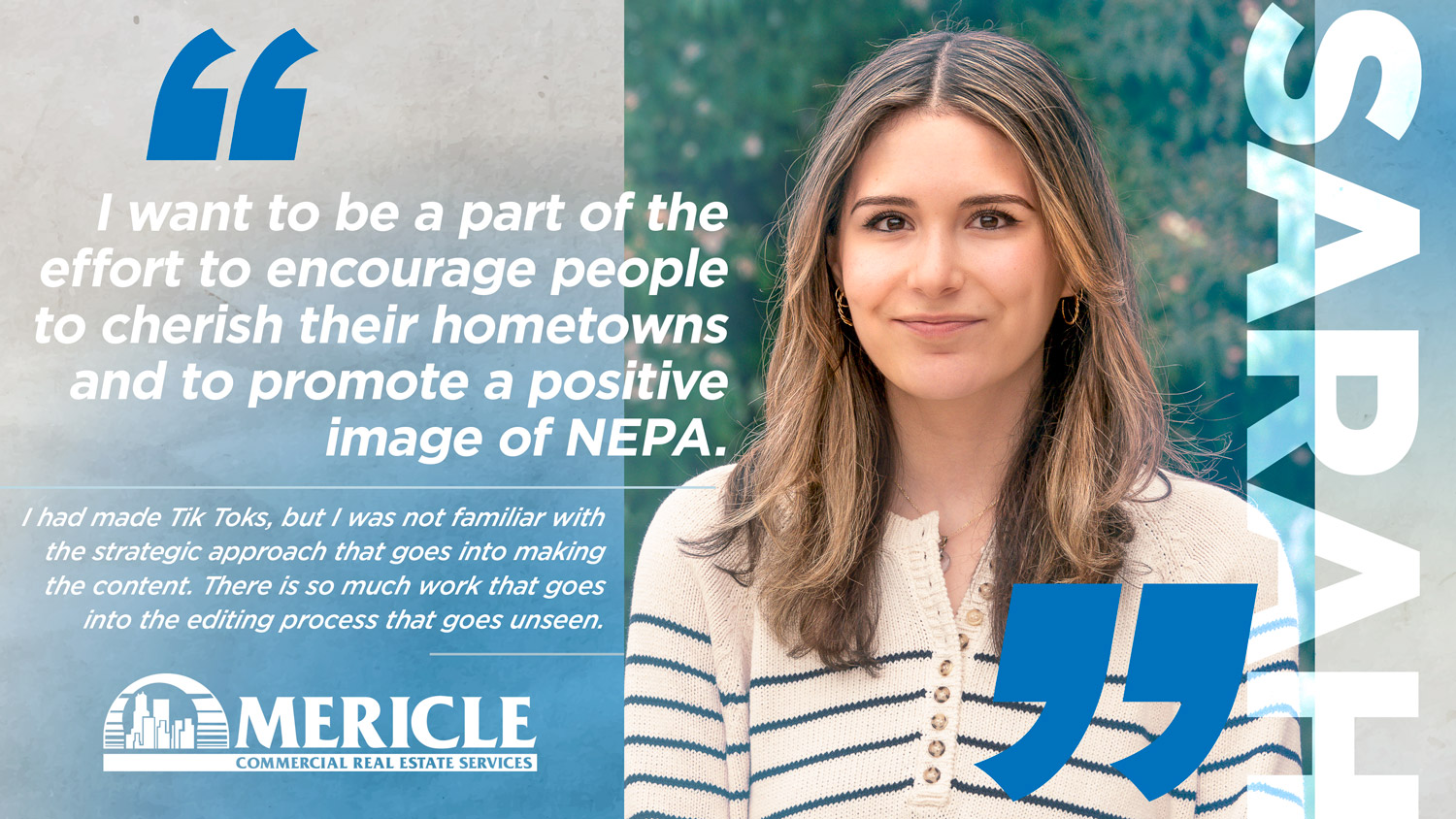 Sarah recently completed a graphic design course at American University and has been able to apply her new skills as an intern. She is now aware of the significance of website design and how it affects users.
Learning the ins and outs of Tik Tok has become one of her favorite aspects of her internship. "I had made Tik Toks but I was not familiar with the strategic approach that goes into making the content. There is so much work that goes into the editing process that goes unseen."
Sarah hopes that by the end of her summer internship, she will have gained more knowledge about web development and how to make her writing more persuasive.
After her time at American University, she hopes to have the opportunity to study abroad for graduate school.
Outside of the office, Sarah lifeguards at JCC Summer Camp and looks forward to her vacation to Nantucket.
Meet Gavin
Gavin McGowan, a student at Florida Institute of Technology, has begun a summer internship with Mericle Real Estate Services.
Gavin is majoring in civil engineering and is also on the baseball team.
He had been familiar with Mericle from seeing the company's name on signs all around Northeastern Pennsylvania. His goal was to work hands-on with a full-service construction and development company so he applied for an internship with Mericle.
During his internship, Gavin has worked in the office and on construction sites learning about storm water management and land development.
By the end of his internship, Gavin hopes to be more familiar with the overall design process of civil engineering.
When he's not in the office this summer, you can find Gavin playing baseball and hanging out with his friends.
After graduation, he plans on working in the construction industry.
Meet Ava
Ava Radel, a student at Virginia Commonwealth University in Richmond, has begun a summer internship in the accounting department at Mericle Commercial Real Estate Services.
Ava is majoring in finance and is on the field hockey team at VCU.
She was introduced to Mericle by her father, Larry Radel, who is an architect with the company.
Ava started at VCU with a focus on health sciences but quickly realized she loved math and changed her major to finance.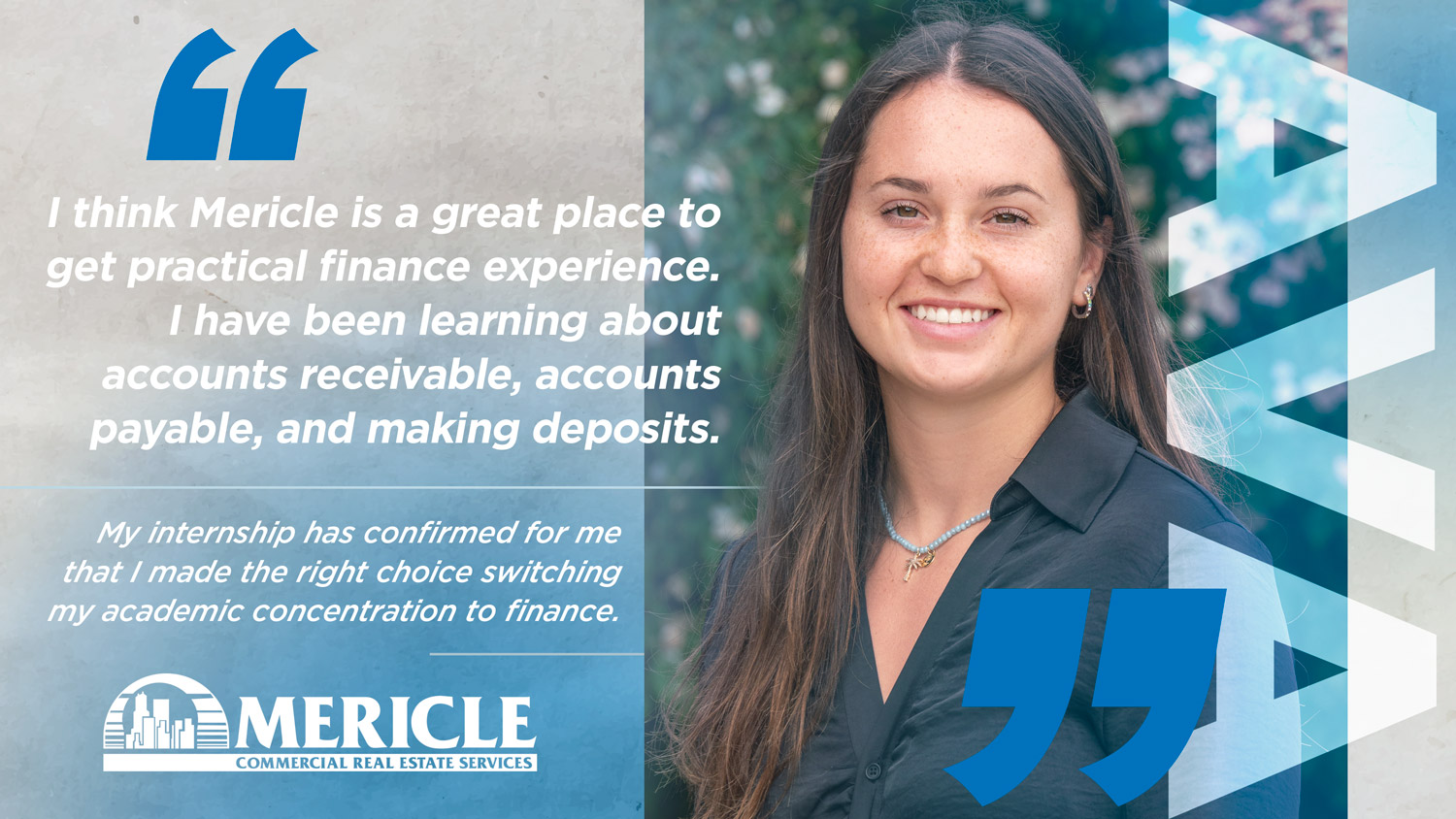 At VCU, she has taken courses in financial and managerial accounting, which has helped her with her internship.
Ava is eager to obtain office experience, form connections, and network with local professionals. She hopes to study abroad for a semester and to continue her education to earn a master's degree.
Outside of the office, you'll find Ava playing field hockey with her friends or training at FAME Strength in nearby Forty Fort with other successful athletes from the NEPA region.
Meet Kyle
Kyle Kintz of Dallas PA has joined the IT team at Mericle Commercial Real Estate Services for a summer internship. Kyle is a student at Purdue University in West Lafayette, Indiana where he is studying Systems Analysis.
He was introduced to Mericle by his mother, Cheryl Kintz, who is a senior accountant with the company.
Kyle began college as an Information Technology major, but because of what he learned during a previous internship experience, decided to change to Systems Analysis.
Kyle is looking forward to see how his work at Mericle compares to what he has been learning in the classroom.  He has already begun working on Mericle's Egnyte file system and on a digital wall display that will be used to make important announcements to employees.
Kyle said he is looking forward to taking Data Base Administrative classes at Purdue this fall.
Outside of the office, he enjoys all aspects of music, especially playing the guitar. You can also find him at Dallas High School where he has worked in the IT Department for the past two years. He is also a member of the Purdue Longboarding Club.
Meet Kari
Kari Melberger, a student at Bucknell University in Lewisburg, PA has started a marketing internship with Mericle Commercial Real Estate Services.
Kari is a student-athlete majoring in Markets, Innovations, and Designs at the Freeman College of Management at Bucknell. Her major has introduced her to numerous aspects of marketing and business. When Kari was searching for a marketing internship in Northeastern Pennsylvania, former Mericle intern Katherine Romanowski highly recommended the company based on her prior internship experience.
"I enjoy Northeastern Pennsylvania and I was really hoping to find an internship here this summer," she said.  "I am very happy to accept my internship with Mericle."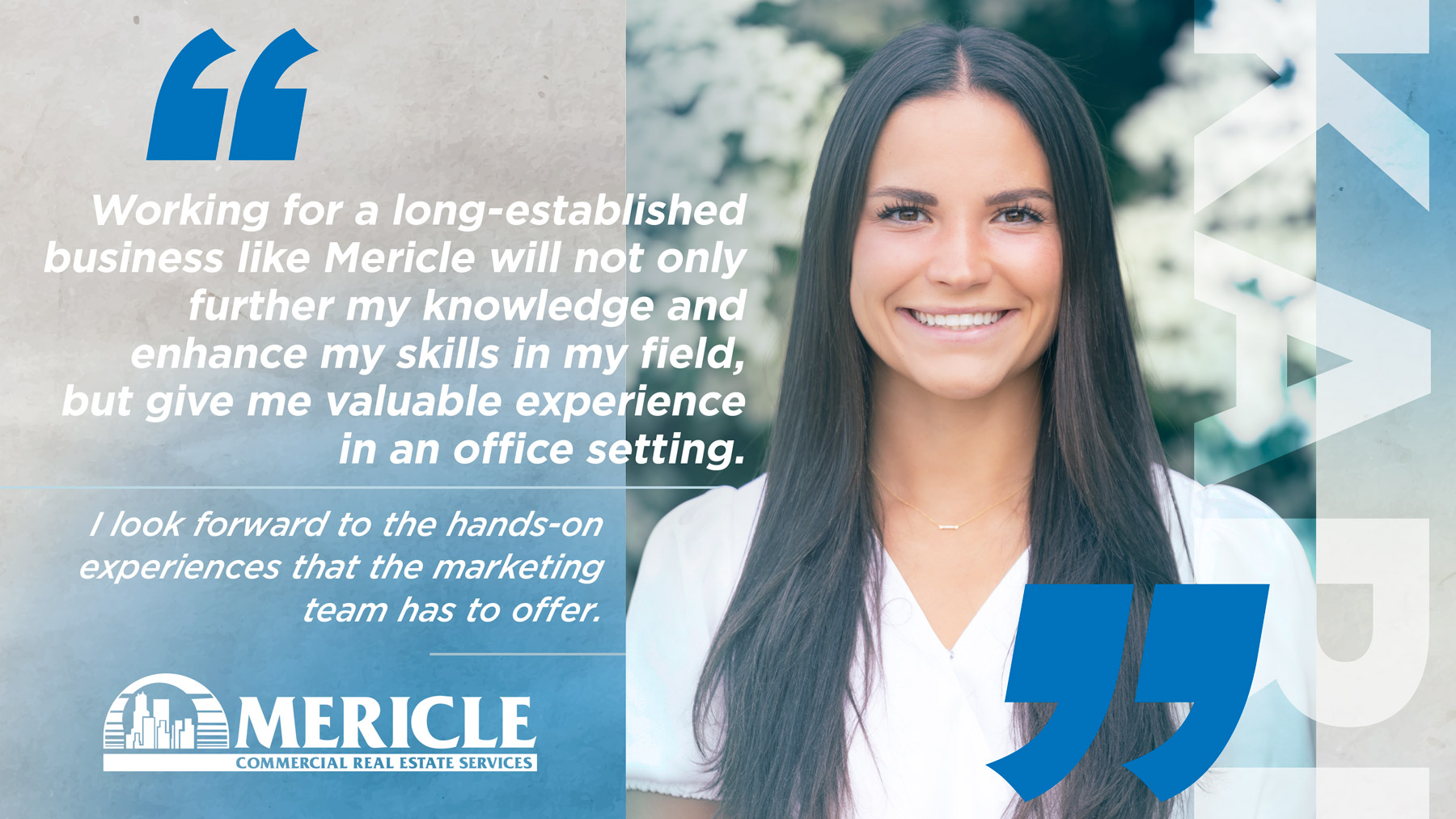 Kari has been introduced to different aspects of marketing during her time at Bucknell. She has completed classes focusing on understanding consumers' wants and needs along with a course focusing on brand marketing. She has an outside focus in sociology to help gain a better understanding of the way consumers think.
Outside the office, you can often find Kari training for her upcoming field hockey season and enjoying her time with family and friends. In her free time, Kari trains younger athletes to work on their field hockey skills.
Although Kari reports back to school the first week of August, she looks forward to the time she will spend with Mericle's Marketing Department and the skills and advice she hopes to obtain from such an experienced group of individuals.
Meet Cate
Cate McGovern, a student at West Virginia University, has joined Mericle Commercial Real Estate Services as a marketing intern. She is a student of the Reed College of Media studying Public Relations and Advertising with a minor in Communications.
Cate's Internship is her first job working in an office and she is eager to bring what she has learned in the classroom to Mericle.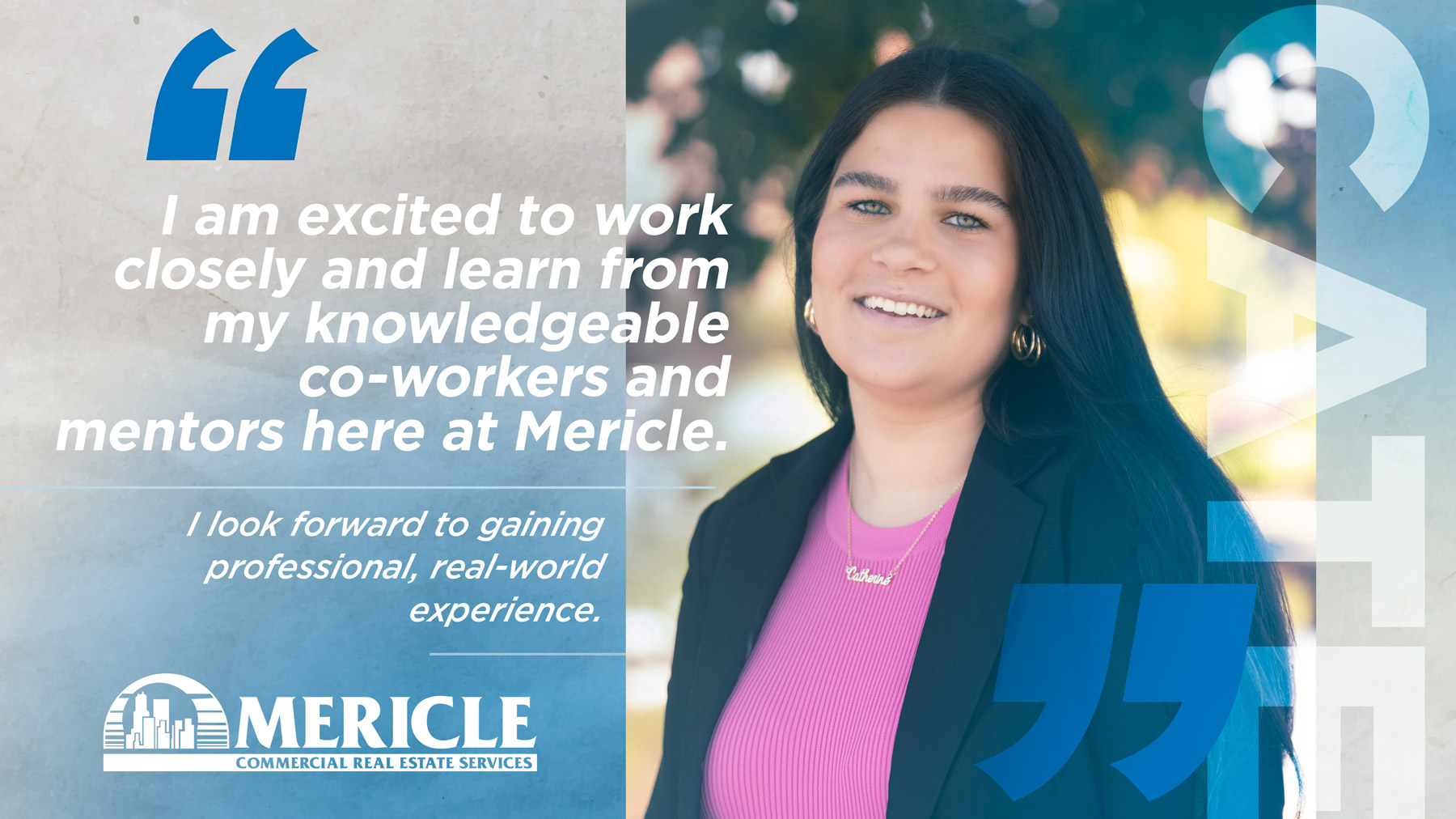 In her free time, Cate enjoys traveling, spending time with family, and going on walks. She is the Vice President of the West Virginia University Women's Rugby team and runs the team's social media program.