CenterPoint Commerce & Trade Park in Pittston Township will be the site of two job fairs during the week of May 22nd.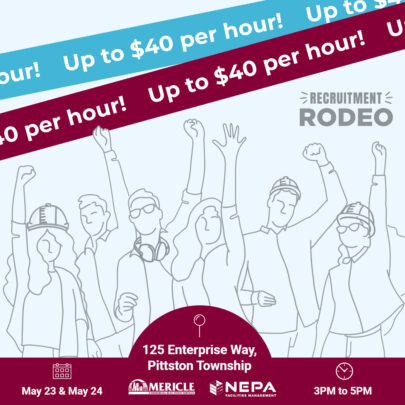 On Tuesday May 23 and Wednesday May 24, area residents seeking positions in commercial construction or property maintenance can opt for the "Recruitment Rodeo."  The two-day rodeo – a hiring event – is being co-sponsored by Mericle Construction Inc, and NEPA Facilities Management and will be held each day at 125 Enterprise Way in CenterPoint Commerce & Trade Park West from 3 p.m. to 5 p.m.
Positions to be filled at the rodeo include diesel and equipment mechanics, experienced electricians, general trades technicians, painting technicians, mason tenders, pavement and roof maintenance technicians, seasonal jobs and many more.  For more information and to register, visit mericle.com/rodeo.
On Thursday May 25, more than 20 area employers, including numerous CenterPoint tenants, will be staffing hiring tables at the 5th Annual CenterPoint Job Fair.  The event will be held at 460 Research Drive in CenterPoint Commerce & Trade Park East from 8:30 a.m. to 4 p.m.  A variety of industrial and office positions will be available.
The CenterPoint Job Fair is being co-hosted by the Greater Pittston Chamber of Commerce, PA CareerLink® Luzerne County, the Luzerne/Schuylkill Workforce Investment Board and Mericle Commercial Real Estate Services.  The event is open to the public and a reservation to attend is not required.