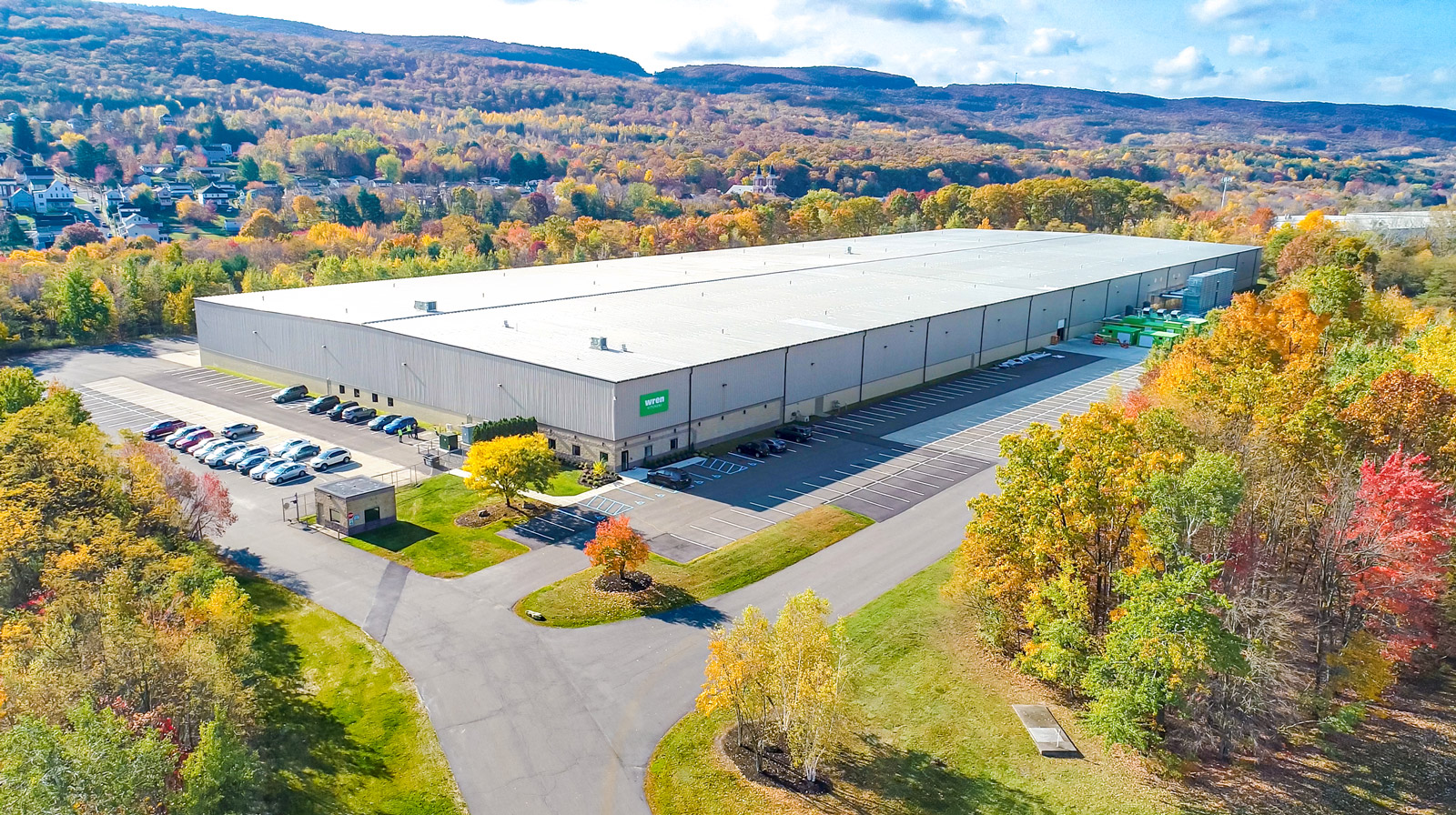 Europe's number one kitchen retail specialist, Wren Kitchens, is opening its first U.S. manufacturing facility and office in Hanover Industrial Estates, Hanover Township, Luzerne County. The project is expected to create approximately 360 jobs.
The company has leased a 252,000 square foot industrial building at 1070 Hanover Street from Mericle Commercial Real Estate Services where it will manufacture and distribute its kitchens and has also leased 10,046 square feet of office and call center space from Mericle at 1110 Hanover Street.
Wren is seeking to fill a variety of job openings including management, customer support representatives, machine operators, hand sprayers, mechanical and electrical Engineers, CDL A drivers, production associates and many more.
The project was coordinated by Mericle, Pennsylvania's Office of International Business Development and Pennsylvania's Governor's Action Team.
The real estate transactions were coordinated by Mericle Vice President Bob Besecker. The 252,000 square foot building at 1070 Hanover Street had previously been occupied as a distribution center for many years by Sears.
Besecker said Mericle's construction crews have completed fitting out the interiors of 1070 Hanover Street and 1110 Hanover Street to Wren's exact specifications.
On November 5th, Wren will open America's biggest kitchen showroom in Milford, Connecticut, at 31,465 sq. ft. The company plans to open several showrooms across the Northeast, including one in Northeastern Pennsylvania. Wren believes the showrooms will inspire and enlighten American homeowners with the use of 3D virtual reality to help bring dream kitchens to life, industry-leading kitchen design tools, as well as inspirational displays of hundreds of countertops, handles, storage solutions, appliances, faucets and sinks.
"We're excited to bring our vertically integrated model to the United States, the largest home improvement market in the world," said a Wren Kitchens spokesperson.
Wren currently employs more than 5,500 people across the UK, and the expansion will create a significant number of jobs in America mainly in the manufacturing and retail sector, as well as various support roles such as customer services and HR.
Mericle President Rob Mericle said Wren has received numerous awards in recognition of the quality of its UK products, manufacturing process, and retail showrooms. "Wren is highly regarded throughout Europe," said Mericle.  "In 2019, the company was named the best retail place to work in the UK by the world's number one job site Indeed.com. The company has been recognized many times for the quality of its products and installation services within the furniture and kitchen industries."
Rob Mericle said he is looking forward to Wren bringing its expertise and positive corporate culture to Northeastern Pennsylvania.  "The project has the potential for significant job creation," Mericle said.
Mericle thanked the Office of International Business Development, Pennsylvania Governor's Action Team, and Hanover Township for their help with the project.
Wico van Genderen, President and CEO of the Greater Wilkes-Barre Chamber of Commerce, said the fact that a European company as prominent as Wren Kitchens chose Hanover Township for its first U.S. manufacturing and distribution center, speaks volumes about the area's rise as a preferred location for new business.
"Any time a manufacturer of Wren's status moves into a community, other companies take notice, he said. Momentum drives a lot of economic activity"
"There is the potential for local suppliers of goods and services to see a boost in their business, added van Genderen. Wren will likely generate a lot of positive spin-off."
Hanover Township Manager Sam Guesto said, "We are happy to provide assistance to a world class company like Wren Kitchens.  Hanover Township welcomes new businesses, especially manufacturing companies and the quality jobs they create"
"Penn's Northeast is pleased to welcome Wren Kitchens to our region," said Penn's Northeast president John Augustine.  "As Europe's # 1 kitchen retailer and manufacturer, Wren could have located their new facility anywhere in the US but because of our strategic location, access to markets, strong work ethic, and affordable and reliable utilities, the company chose to join the growing list of International companies that has located in Northeastern PA."
"Penn's Northeast congratulates our regional economic development partners – PA's Department of Community & Economic Development and our members – especially Mericle Commercial Real Estate Services, for their success in attracting another growing manufacturer to NEPA," added Augustine.
Individuals interested in applying for employment with Wren Kitchens may do so on Pennsylvania CareerLink's website at www.pacareerlink.pa.gov. Search available positions by typing "Wren" into the search box.
ABOUT WREN KITCHENS:
Wren Kitchens is Europe's number one kitchen retail specialist and has supplied kitchens worth more than $1.31 bn (£1 bn) in the last two years alone. Launched in 2009, Wren Kitchens is a family business, and it manufactures its UK kitchens in its three manufacturing and assembling facilities. It has 99 showrooms in the UK and delivers fully built cabinets with doors, drawers and wirework pre-installed and delivered by Wren's award-winning fleet of trucks.
ABOUT MERICLE COMMERCIAL REAL ESTATE SERVICES:
Mericle Commercial Real Estate Services is a full-service commercial real estate development and brokerage firm that was founded in Wilkes-Barre, Pennsylvania by Robert Mericle in 1985.  The company specializes in the development of industrial, flex, office, and medical space.  An estimated 17,000 people work for the more than 200 companies that are housed in Mericle-developed buildings throughout Northeastern Pennsylvania. For more information, visit mericle.com.